Serious athletes are always striving for for performance gains and I'm no different in that respect. I look at areas such as training, nutrition and equipment for example to see where I can potentially gain an advantage within the rules of the sport.

As a long-time asthmatic who sometimes has struggled with their lower-than-average lung function, I'm pleased to say that POWERbreathe have recently supplied me with one of their respiratory muscle training devices. Read on to find out more.
POWERbreathe is a training device that uses resistance to exercise the respiratory muscles. It's been called 'dumbbells for your diaphragm' because, like you'd use dumbbells to improve your arm muscles, POWERbreathe exercises your breathing muscles using a resistance load to make them work harder and improve their strength and endurance.
I'm using my POWERbreathe devise as part of my preparation for this season's Paratriathlon events and hopefully all the way to the Rio 2016 Paralympics!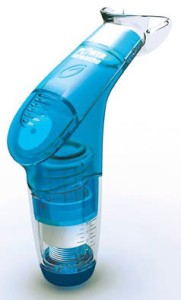 I'm hoping that using the device will help improve my breathing so that I feel more 'comfortable' throughout each stage of triathlon, but especially during the run section.
I'll be using the device for 30 breaths twice a day. Whilst this does't sound a lot, POWERbreathe say I should feel a difference after 4-6 weeks. Training involves breathing in through the device against the resistance which means my breathing muscles will have to work harder than normal.
The nice people at POWERbreathe have also posted a blog about our new partnership that can be view by clicking here
I'm looking forward to seeing how the devise can help me and will provide an update/product review in due course for anyone interested.
Iain