After months of anticipation and some hard work on Jill's part the Sport Relief 5km run around the Olympic Park in London finally arrived on the 23rd March.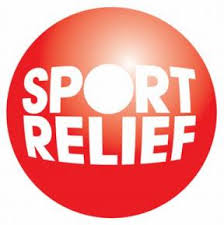 Jill has been training hard for this as time allowed around her busy work schedule. She's been getting herself to the gym, walking and running regularly. She's done the odd swim and, most impressive of all, full-on boot-camp style days once a month with Richard Green PT.
Richard's been working Jill pretty hard – 6+ hours of aerobic exercise, strengthening/stretching and Jill's favourite like foam rolling and deep tissue massage. On the whole I think she's enjoyed it but at other times she's perhaps pushed herself to the limit (and maybe a bit beyond!).
Thousands of runners, swimmers and cyclists descended on the Olympic Park to take part in their chosen event. The runners were set off in waves to help avoid over-crowding on the multi-lap circuit we had to complete 3 times. It still seemed busy though as we set off with proceedings being screened live on BBC One, so much so that for the first 2 or 3 minutes you could only walk.
As things thinned out we got running with Jill choosing to run for 8 minutes, walk for 2 and then repeat. In the end she kept cutting the walking time short and seemed determined to get round as quickly as possible. Things were looking good but towards the end the effort was starting to tell perhaps. We left the circuit after about 4km to head to finish. This seemed an incredibly long finishing straight but Jill seemed determined to push on to the finish. Her heart rate was high, very high – over her predicted maximum…no wonder she felt like she was going to be sick!
With the finish in sight Jill upped the pace once more and was soon over the line. Amazingly she scored a PB by well over a minute (38:18 mins). Not bad for someone who had never ran until a few months ago. Especially good considering Jill had been nursing a painful knee for the previous week and had been struggling to walk never mind run. Some deep tissue massage had helped but I could tell she was still struggling with it and she would suffer for her efforts over the following days.
On that showing I'm sure Jill will make further improvements in her running and general fitness once the knee settles.
Jill raised over £300 for Sport Relief, so thanks if you made a donation – much appreciated.
Here's a few pictures kindly taken by Tyree Robinson who joined us on the day. Check out our new Tri Team Dawson T-shirts!: –
Well done Jill!!
Jill's next challenge is the Ride for Life in May when she is adding a 10 mile off road bike ride to a 3 mile run in what will be her first mini duathlon (after dropping me off at the Waveney Triathlon!). Later in the year she will tackle another two 5k runs.
Iain