Like a lot of people, and especially (ahem) older cyclists, I was a bit sceptical about the introduction of tubeless tyres over recent years.
For those who aren't bike-geeks there are basically 3 types of bike tyres nowadays: -
Tubular - They have an inner tube sewn into a tyre carcass and then you use double-sided tape or glue to secure them to the rim. In days gone by 'tubs' were the best option for racing with many professional riders still using them in competition today as they offer low rolling resistance and if the worst happens and you puncture you can still ride them flat for while.
Clinchers - A tyre (nowadays often folding) and an inner tube combo. Clinchers are now so much better than in days gone by with racing models not far off tubular tyres in terms of rolling resistance and it's pretty easy to change a tube when you know how.
Tubeless - Basically a tyre that seals to the rim and doesn't require an inner tube. They are very light, you are less likely to get a 'pinch flat' and they have impressively low rolling resistance. You put sealant in and if you puncture it should seal quickly. Worst case you can even put an old-fashioned inner tube inside the tyre so you have get-out-of-jail options.
I've tended to favour tubular tyres for racing on the tandem, primarily because you can put much higher pressures in them and that feels better with the weight of 2 riders and the bike compared to clinchers. Sometimes we have unfortunately punctured, and, because I glue them on so well, you need to lever them off.  It's usually race over if you puncture.
I've used clinchers for training on both solo and tandem and had no issues, but when racing feel they aren't quite as fast. For middle and long distance races i've accepted this on the basis that I want to be able to finish even if I puncture...it's often a lot of time and money to go to these races and sometimes you can get away with a flat tyre and still do OK!
In 2019 I got with the program and started trialling tubeless tyres. Schwalbe, who have been an amazing sponsor since winning the World sprint title in 2012 using their tubular tyres, provided me with some of their Pro One 25mm rubber to test.
The verdict is out and in short they are very impressive.
I did a couple of solo rides to begin with as I wasn't sure about tandem-use. What first struck me was that they offer a very comfy ride and reduced some of the vibrations from our rough Norfolk roads. This might be because you run tubeless tyres at lower pressures.
Once confidence increased they were tested on a couple of steady tandem rides and the results were pleasing as they not only seemed up to the job but also it felt easy to cruise at 20mph+.
Tom Levy and I used these tyres for the Norwich 100 including some fast decents and gravelly little roads. No issues there.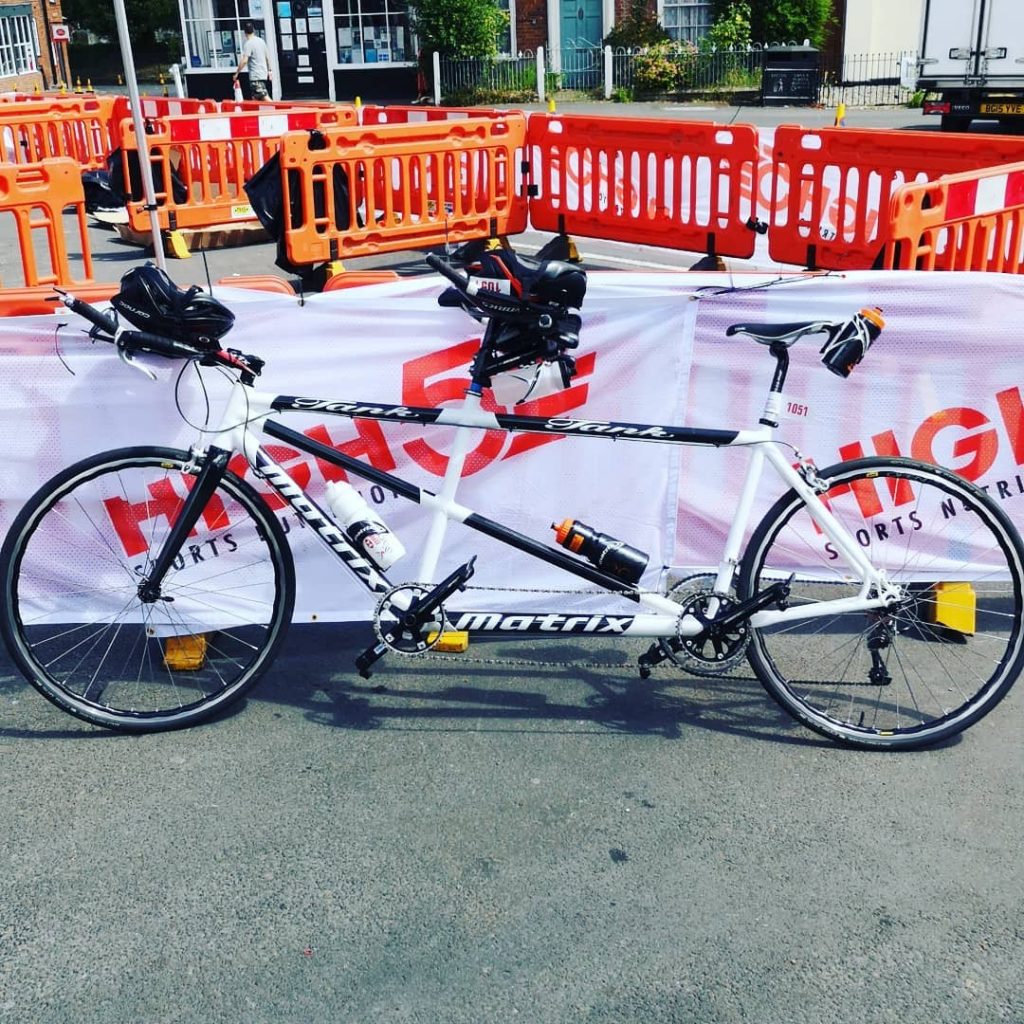 Racing is the real test though as you tend to push equipment hard on a tandem. Duncan Shea-Simmonds and I did the Outlaw half iron-distance tri and Dunc definitely wasn't taking any prisoners on the bike leg. Again no issues and to be honest the tyres were feeling very much like fast tubs even though they only had 90 psi in them compared to the 140-180 I would whack into tubs.
We again tested the tyres to the max at Ironman Estonia, this time on Dunc's wheels. They were positively signing on the fast sections and felt grippy around the corners with Dunc seemingly happy to throw the tandem around as needed. They were apparently quite tight to fit to his disc and aero front wheel judging by grunts and the sweat pouring off poor Duncan. Once mounted however they helped us to a 4 hours 50 minute split for the 112 miles on the way to setting a new world best Ironman time for a VI athlete and guide!
My conclusion is that - as Schwalbe had insisted they would be - tubeless tyres really are the way forward. This is partly because of the performance benefits meaning they at least equal if not surpass tubular tyres now, but also the reduced puncture risk and chance it will self-repair without needing you to even stop!
I think the main issue with tubeless tyres is finding a tyre and rim combo that works well together and allows the tyre to fit securely.
Schwalbe are actually bringing out a new version of their tubeless tyre which promises to be even faster...
For more information see the links below: -
Schwalbe Launches new Pro One and TT tyres for 2020
Iain