Just two weeks separated the Sarasota and Madeira World Cups, with only 8 days at home before travelling again.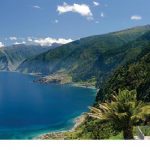 Matt wasn't free and neither were any of my regular guides for one reason or another (Jack had the worst excuse saying he was getting married that weekend). Fortunately British Triathlon put in me in touch with Ben Goodall who, whilst not having raced as a Guide, had been training with fellow VI athlete Dave Ellis for some time and was keen to come along.
We didn't get to meet beforehand as we were both very busy during the period leading up to the race. So we got together airport and set about getting in some practice on arrival in Madeira. We  started with a 90 minute tandem ride, but it was limited to riding up and down one short road that didn't have too much traffic as everywhere else was really busy! This was followed up by some tethered swimming in the local pool to see if I could get anywhere near Ben's exceptional swimming speed (He's an ex-elite level swimmer). I did OK but was working close to max!
Day 2 was the course recce's – The bike recce didn't tell us much as we were only allowed to ride very slowly in a group. The swim recce was useful for us in terms of doing our first open water swim together but there was little clarity on what the course would actually be on race day. With a lot of overnight rain there was also a lot of very murky water flowing into the harbour where we were swimming…
Race day followed and we felt positive and relatively well prepared given we'd only met a few days earlier!
We went off hard in the swim and got clear of the B2/3's we started with. We had 3:16 to pull back on the B1's and some handy guys starting with us, so we knew we couldn't hang about. The water was much clearer than the previous day and we had a good swim, posting the fastest split.
A no risk transition policy worked fine (we didn't want any penalties!). Out on the bike and we were quickly moving at 40kmh+. The bike course was good – 5 laps with long flat sections, one short climb, one longer drag and a dead turn in the road. It was fun to race and we were going well. Ben was doing a sterling job of handling the tandem at speed (We won't mention the brief excitement on lap one when we  ended up on the wrong side of the road after a tight right hander at the bottom of the longer decent! – it didn't worry me as I had complete confidence in Ben and this was just down to the not being able to practice the course at speed with all the cones out).
I think we posted the 3rd faster bike split and came into T2 in 3rd spot over-all having caught a lot of the B1's and exited in 2nd. Unfortunately my calf injury would prevent me from running well. I could barely run at all to begin with and it took until about half way to improve. I never reached anywhere near the speeds I had been running pre-injury and just had to get round.
It was disappointing having worked hard to get into a good position only to watch others run past with ease, but there wasn't much I could do. We ended up in 6th place over-all, scoring nearly double the  world ranking points I got for winning the national champs.
Whilst the result wasn't quite what I was looking for it was better than Sarasota and I was pleased with how we executed our race. Ben did a superb job of Guiding at his first ITU Paratri race and i'm sure he'll get more opportunities with GB in the future.
Well done to the rest of the team (mostly from the talent/development squad) who all put in great performances. Here are the results.
Unfortunately I, along with several other team members came down with a sickness bug, presumably from Saturday's swim recce. Despite that I still thought this was a great race and well worth doing again in the future should the opportunity arise.
Now it's time for rest after a long season and to allow my injury can heal properly before winter training starts.
Iain