The Great North Run is one of the largest half marathon in the World with 57,000 entries this year. Like the London Marathon in April, I was lucky enough to gain a place having deferred from 2017 due to the back problems I was having last year.
For those not in the know, The Great North Run covers 13.1 mile from Newcastle to South Shields in the North East of England.
I'd wanted to do this event for a long time – I'd completed the Junior event several times over a 5 mile route, but never the senior race. It would also be a chance to catch up with the family who still live in around Newcastle so a win-win.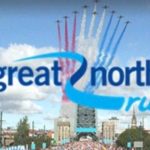 I was trying to get a start alongside the other VI runners who would begin 20 minutes ahead of the main field so as to get a clearer run. Since I opted to go un-guided the organisers said this wasn't allowed (even though as a B2/B3 athlete you can run un-guided at Para-athletic events… Instead they gave me a pass to go in a start pen with the celebrities near the front (not that I had a clue about who anyone was!)
I had it in my head that I would run for a PB if on a good day or just plod around if not. I didn't really want to smash myself silly for an average time as I have other things coming up that are more of a priority.
After a long wait in the start pen we were off. Being near the front is probably an advantage, but it was still very busy and to be honest all it really means is that you have thousands of people chasing you!
Quite early on I knew I wasn't on a great day. Even running on the downhill and flat didn't seem great and  once we hit the first drag I knew it wasn't a PB day. I decided just to enjoy the run and took it fairly easy most of the way, chatted to people, stopped for water and to high five small children as the mood took me.
Towards the end I decided to up the pace a little so I could be first in the ice-cream cue and get on the bus back to Newcastle. I finished in 1 hour 55 minutes, or in other words a lot longer than Mo Farah took (59:26 minutes).
It was good to tick another event off my bucket list and who knows I might come back again sometime as it was a great race with super support along the entire route!
Iain