Jill and I participated in the Superhero triathlon at Eton Dorney on 18th August. We were racing for Scope with Jill taking on the half superhero challenge (400m swim/10km bike/2.5km run) and I went for the full superhero (750m/20k/5k).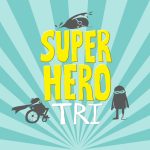 The event is aimed at anyone with a disability, regardless of your ability level. The programme catered for everyone from elite ITU racers through to those with complex needs.
Unlike most of the events Jill and I are involved with this one had very little in the way of strict rules! You could get around the course pretty much how you like. You can swim, be pulled through the swim or if needed sit in a boat and be pulled by a swimmer. You can use absolutely ANY kind of bike and and run, push yourself in a wheelchair, be pushed or probably even carried around the run. You could do the whole thing or just one leg of a relay with your friends or family.
See this video below from last year to get a better idea what it's all about: –
Jill did really well and completed the course comfortably (well, except for cramping calf muscles). She had a particularly good swim, which is great ahead of the upcoming Swim Serpentine event in September.
I got round quite well too. I did get a bit lost in the swim and then couldn't find the water exit ramp and the bike course got pretty busy as the laps went by, but I had a strong run to finish which was pleasing.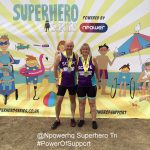 Over-all this was a fun and very inclusive event in a traffic-free environment, so worth a go next year if it's relevant to you.
Watch out for the TV coverage in September!
Iain