Whilst I continue to watch from the sidelines for now, Jill has been getting stuck into all manner of challenges. From regular Parkruns to muddy 5k obstacle races (see below photo) and long-distance walks, Jill seems to have some sort of charity challenge most months.
July 8th was time for the Shock absorber triathlon in support of Breast Cancer Care at Eton Dorney. Prior to this, Jill's only experience in multi-sport (other than being a super-supporter of course!) was doing the bike leg of a relay when the ITU World Series visited London's Hyde Park and a small practice event in Cambridge a couple of year ago.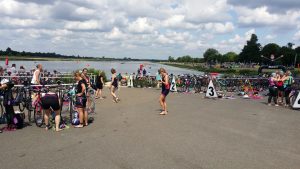 She'd seen enough triathlons before and done plenty of training to be confident, but given it was her first big triathlon it wasn't surprising the nerves were kicking in just a little. Ben at tri harder had been working on Jills strength and conditioning alongside Tom Levy, who has been over to our house to go bike riding and running.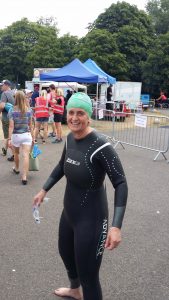 She needn't have worried though. Jill conquered the swim without any trouble, even stopping to encourage others to keep going. The sessions Jill has had with her swimming coach Paul certainly reaped their rewards turning her from a breast stroker into an efficient front crawler.
After what can only be described as a leisurely T1 (I know you were always told to dry between your toes but…. !),it was out on the bike. Jill was going well, but not pushing it to the max with the run in mind. Safely into T2, which was thankfully completed with a little more urgency than T1, and she was all set for the last leg.
The run looked tough for all the competitors. It was hot and humid with temperatures approaching 30 degrees. Whilst clearly feeling the heat, Jill settled into her rhythm quickly and covered the 2.5k out and back route along the edge of the lake under her target time (although at the time she was a bit disappointed having thought she'd missed it by some margin). I think that she has gained huge confidence from the support and friendship she receives from Bob, Pete and Corinna at Brandon Park run.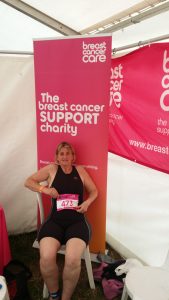 Job done having finished the swim-bike-run and in good shape. 3rd in age group was a nice surprise too as well as the fastest swim for her age!
Although she wouldn't admit it, I think she was just a little proud of her efforts and rightly so!
Unlike many people who finished and declared that they would 'never do that again', Jill was already thinking about the next one!
Iain