It was nice to have a long weekend off work, especially as for once the weather was kind to us. However it certainly wasn't a quiet few days in the Dawson household. This is what we got up to: –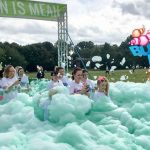 On Saturday (after catching up on some much needs Z's) we headed off to the Bubble Rush  5k run at Earlham Park in Norwich. This event involves running through several inflatables around the course with tons of coloured foam being fired out of mini cannons. It was great fun and Jill and I got round in 35 minutes, although we both ended up with very green feet from all the coloured foam and bubbles!
Sunday saw us meet up with some of the Beacon Tri team for a jog around Whittlingham Country Park before 5 x hill reps. My post marathon legs didn't enjoy that much! We followed this up with a spot of brunch whilst chatting team things and keeping half an eye on how team members Alfie, Miriam and Matt were getting on at The BUCS (Universities) sprint triathlon championships.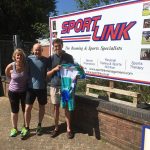 The day was not done there though. Off we went to say hi to the guys at Sporlink with Jake, another young athlete on the team who specialises in duathlon/running events.
In the evening we caught up with Matt Ellis to sort out some of our plans for going to the World Multi-sport championships in July where we will double up with the aquathlon and long distance triathlon championships.
Bank holiday Monday wasn't much quieter, but was nevertheless good fun. We spent most of the day out in the sun helping out at the Tri Harder wetsuit test day. Usually this involves getting into water below 10 degrees for up to 45 minutes three times. With the water temperature at 13+ degrees it felt like a luxury compared to previous years!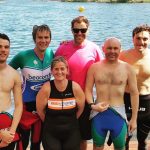 It was a great day with lots of people new or returning to open water swimming getting in and giving it a go. It's nice to be involved in these kind of events and hopefully helping a few people get started. It was also great to see the majority of the Beacon Tri team down to either help or swim. Jill   's swimming is coming on leaps and bounds and she completed her first open water swim of the year too ahead of other challenges to come!
Today it's been back to work for a rest!
Iain