Can I really call this a 'race report'? It's not as if I stood on the start ready to push the limits and determined to set a new PB or finish in a certain placing.
No, this event was a bit different. My only real intention was to get round the course…to survive.
This might seem unambitious perhaps, but I'd never run this far before. My previous longest run had been 15 miles, which went quite well, but I had another 5 miles on top to do. Secondly I'd missed some of my longer runs due to man-flu and a bit of a chest infection. I'd also had a flare up of my back issue on the Monday morning before the race, so I wasn't sure I was even going to run.
I didn't want to make my back worse and risk missing London Marathon (again), but then on the other hand I felt I really needed to cover the distance to help me get round the 26.2 miles on April 22nd. I thought I'd give it a go and see what happened without putting any pressure on myself.
I'm glad I did. On the day my back felt fine. I started at what seemed a steady speed for the first few miles. Once into my rhythm I picked it up a bit, but thought better of really pushing the pace – 20 miles is a long way!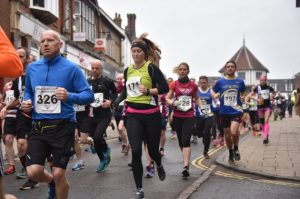 This would later prove to have been unusually sensible on my part.
The undulating course on rural roads, consisting of an out and back section for the first and last few miles with a two lap circuit in-between, was very nice. Not much traffic, loads of water stations. enthusiastic marshals and supporters, decent weather – what's not to like?
Nothing from my point of view, at least up to mile 16 anyway. To mile 14 I had been moving along nicely. I was happily chatting away to a couple of other runners who caught me about mile 8. One guy was calling out all the turns and aid stations as they closed the gap on me, so I thought he was guiding another VI runner. He was in fact by himself, so I was a bit bemused, presuming maybe he knew I was poor of sight and was just being helpful. Incorrect again. It turns out Dudley had trained as a Guide Runner and this was just a bad (or good) habit he had developed! We went through 10 miles in 1:23 so things were going OK.
Anyway, by about 16 miles in I was beginning to get quite sore legs. This is just a lack of conditioning to the distance. I had no issues from a Cardio-respiratory point of view and felt comfortable in that sense. I plodded out the last few miles, jogging it home in a relatively modest 2 hours and 52 minutes having lost some ground on Dudley who kept an even pace throughout – doesn't he know you are meant to stay with the VI athlete!!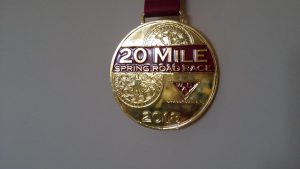 I was quite happy with my run. I'd achieved my only goal of the day and get a nice big medal to show for it (and sore legs for the next few days!).
The Wymondham 20, part of the Sportlink Grand Prix,  is a well run event, well worth doing if you are preparing for a spring marathon or just for a different challenge.
Iain