Iain's Guides
In Paratriathlon, blind and visually impaired athletes race alongside a fully sighted 'guide'. The guide has to complete the entire race, and, their role is to direct their visually impaired partner through each stage of the event as quickly and safely as possible. With each element of the triathlon presenting it's own unique technical challenges a team effort is needed to be successful: –
The Swim – Athlete and guide must swim side-by-side using a 1 meter elastic tether. This requires high levels of skill and co-ordination when swimming in such close proximity.
The Bike – This section is completed on a tandem. The guide acts as the 'pilot' or steersman whilst the visually impaired athlete acts as the 'stoker' on the rear of the tandem. Speeds can reach over 40 MPH even on the flat, so good bike handling skills and nerves of steel are needed.
The Run – This is perhaps the least technical aspect of the race for a B2/3 visually impaired athletes as they are no longer required to wear blackout glasses as had been the case until 2013. B1 athletes still wear blackouts, but in either case the Guide has a vital role to play in identifying potential hazards and ensuring the correct course is completed.
Iain trains and competes with several different guides including: –
Duncan Shea-Simmonds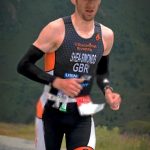 Duncan, a prolific age group athlete and experienced Guide having previously raced with Haseeb Ahmad,  stepped in to Iain at the 2018 Paratri national champs, which they went onto win. Following this success they will race together at several events in 2019, including over the Ironman distance in Estonia on 3rd August.
Nick Beer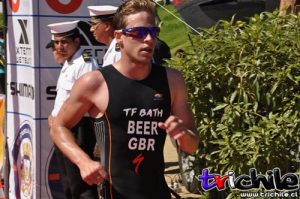 Nick is an elite-level triathlete (and former model!). He raced several times with Iain in 2016 including the Artic One Paratriathlon and ITU World Series in Strathclyde whilst also making his 70.3 debut. Nick has guided Iain to two wins at 1 mile Para Swim Serpentine event (2017 & 2018).
Jack Peasgood
Jack is a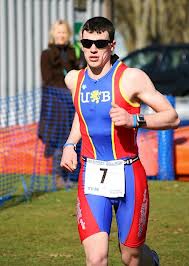 talented young triathlete from Cambridgeshire. He is a good all-rounder and never far from the podium. He has represented the GB age group team at European and World championship level.
Over recent years he has guided Iain and other GB athletes achieving great success. More recently, Jack has been riding on the velodrome with Iain competing in several events including the 2017 Para International Cup in Manchester.
Jack also has a degree a war studied, runs his own massage business and is a qualified nanny!
Matt Floyd
Matt Floyd is a student at the University of East Anglia (UEA) and also a member of the Beacon Triathlon team. He has represented the Great Britain Age Group team at the 2018 ETU European Championships in the sprint event. Matt a strong swim-biker and will be undertaking his first events as a Guide in 2019.
A new name for 2018, Tom has been doing a bit of tandem riding with Iain and will be doing the odd race too this year! Tom is a GB Age Group athlete competing a middle and long distances. Tom is Team Manager for Beacon tri which Iain and Jill also help organise.
Jake Brockwell – Jake is another young athlete from the Beacont Tri team and has started do some guiding with Iain in 2019.
Baard Grindberg
Baard is
a Norwegian triathlete and exceptional runner. He guided Iain in 2009 and 2010 including a storming victory at the 2010 World Series event in Hyde Park. Unfortunately Baard missed out on the 2010 World Championships in Budapest due to illness. He has since bounced back to complete what is considered the toughest triathlon in the World – the Norseman – which is an amazing achievement. Baard has now moved back to Norway, but is on standby should his services be needed! 2016 saw Iain make his Half Ironman debut in Norway with Baard
David McGaw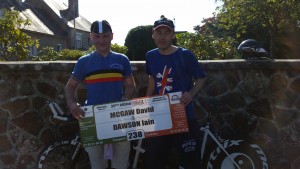 David McGaw is a prolific time trial winner based in Cambridge. He started racing with Iain during 2015, culminating in the pair winning the prestigious Duo Normand time trial in France in September 2015. Since then Iain and David have competed on the track with some success and are looking for more of the same in road time trials.
Bobby De'Ath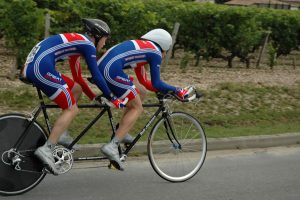 Bobby is an accomplished cyclist and has been piloting the tandem with Iain since 1999 achieving a 2nd place at the national championships, several course records and countless victories over the years. The pair also competed at the 2007 World Paracycling Champs in France. In 2012 Bobby showed his potential on two feet by guiding Iain in duathlons. Iain and Jill are proud Godparents to Bobby and his wife Claire's two children.
Former Guides
Matt Ellis – Iain and Matt have achieved several top results together including the 2010 World Sprint and World Duathlon titles, Brone at the 2013 World Sprint champs, the 2016 European Middle Distance triathlon title and both the World Aquathlon and Long Distance Triathlon World titles in  2018.
Iain Robertson – 'The Two Iain's' raced together just a few times, but achieved a 3rd place at the ITU London World Cup and 2nd in the Iseo ITU World Cup in 2015 and have ridden various time trials together also.
Luke Watson  – Luke competed with Iain from 2011-2012 winning the 2012 European and World Paratriathlon titles together. Luke has now retired from competing, but is forging a successful coaching career within the sport.
Liam Gentry – Liam is a top local cyclist and triathlete from Norfolk. He guided Iain to his first major triathlon title at the 2010 European Championships in Ireland, a result that set the tone for an unbeaten season.
Carl Shaw – Carl won a bronze at the 2011 World duathlon and silver at the 2013 European championships as Iain's guide and is regularly on top of the podium as an individual athlete.
Rob Lines – Rob was Iain's first triathlon guide and a massive help in getting him started in the sport. Roo, with multiple Ironman finishes to his name, is a strong swimmer which was especially useful as this was initially Iain's weakness discipline.