In the past Jill and I have done a fair bit of charity-related work and fundraising for things like Special Olympics and other organisations. However in recent years with work and personal sporting commitments sucking up a lot of our spare time we've not had so many opportunities to get involved with things.. So we were really pleased to take part in a couple of local events held from Friday 15th – Sunday 17th November in aid of BBC Children in Need – a great cause!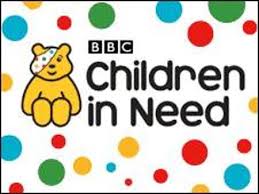 Jill led the way by signing up to run at 5;00 a.m. as part of Amazon Gym's 24 hour treadmill relay. I followed at 5:30 but Jill probably covered more metre's than I did and seemed very awake given the time. Good effort! She's been doing well with her fitness efforts lately following the recent boot camp and her running is coming on nicely. Well done to everyone else who took part too!
The following day I took part in BBC Radio Norfolk's 'Pitch Up For Pudsey' football match held at Kings Lynn Town Football Club's ground, The Walks. I was lucky enough to be invited to play in an All Stars team consisting of a few ex-footballers from Norwich City and Kings Lynn, radio presenters and local celebrities. The latter included people from the world of boxing, speedway and, er, Paratriathlon! Our rag-tag bunch of ageing half-fit half-injured players (several of whom including myself hadn't played football for several years) with a smattering of talent would take on an Emergency Service's team.  It would be fun, nothing too serious…the crowd would want a bit of entertainment, showboating even, I had been told. Sounded OK to me.
A decent sized crowd had assembled – I  don't think I've ever played football in front of a proper crowd so that was novel. We went out to warm-up prior to kick off which for our team consisted of randomly kicking the ball and doing a little gentle jogging, occasionally. We quickly realised we were in for a proper game though as we witnessed the opposition moving through a fully structured, professional looking warm-up.
So it proved…the Emergency Services were going for it from the off – sliding tackles and all. At least there would be some paramedics on hand if they hurt anyone! They looked well organised and even seemed to know each other's names – more than we could say. We were also missing ex-Norwich City players Darren Huckerby and Craig Flemming through injury which wasn't going to help either. For my part I started on the bench and whilst the All Stars were doing OK we went 1-0 down fairly early. Surprising I was called into action not long afterwards along with several other subs (surely no-one was tiring yet!),
I was asked where I normally play. I said 'winger' with the reply coming back 'Centre-back then', Super, I've never player Centre-back. I can only think of one worse position to put a visually impaired individual who hasn't played football in years against a well organised and skilful team and that would be goalkeeper! I knew it would be a challenge. Could I see enough to play in that position and not make a fool of myself? Could I run enough after a recent injury? Oh well, it was for charity after all.
In the end I think I did OK. I won my first few challenges and went shoulder-to-shoulder with the opposing strikers a couple of times to disturb them enough so they couldn't get a shot off. I missed one or two things maybe, but could make up for it with a my speed. I made a few simple passes but messed up a longer pass giving it straight to the opposition so decided to keep it simple after that. I played about 30 minutes without our team conceding before I was subbed off just before halftime…then we went 2-0 down!
I was back on the bench for the second half, I think the idea was to put out our best team and try to get back in the game. We were looking good, helped by a touch of good natured cheating when we through on a 12th man (Craig Flemming's suggestion at halftime). It took them 5 minutes to realise!  We hit the woodwork 2 or 3 times and one of semi-professionals even missed a penalty. I got back on for the last 15 minutes, notionally at left back. I still felt like I was playing Centre-back though. Once we went 3-0 down I thought 'stuff it, I'll push forward a bit more'. I managed one decent run down the left wing beating a couple of players with a little shimmy greeted by a small cheer from the crowd (or was that just you Jill?) before passing it off to a teammate. Nice.
We eventually scored a late consolation to make it 3-1 but really it could have been closer. In all honesty the result didn't matter but their was some good performances out their from both teams, particularly from some of the radio presenters who were impressive in their tackling and work rate.
I don't want to give away too much here, but for me, it was certainly challenging but great fun. I found it visually difficult to keep an eye on where everyone was (team mates & opponents) who were constantly on the move, to know exactly where the ball was (usually where most players were gravitating towards), judging the flight and speed of the ball in the air (didn't really bother to try with that one!) and working out who was on my team (it was a mystery if anyone was more than 10 or so metres away). Still, I held my own I reckon and used all of my adaptive skills and fitness from triathlon training hopefully to reasonable effect.
Most importantly I understand the games raised over £3,000 which is brilliant, but keep an eye/ear out as the team kits were all signed and will be auctioned off by BBC Radio Norfolk at some point to raise further funds.
See below for a few more images from the match: –
Also click here to read more about it and even listen to the match commentary on Radio Norfolk's website.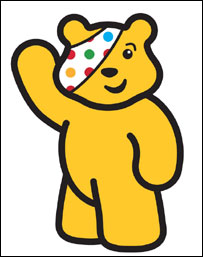 A great weekend and hopefully lots of cash raised across the region and nationally!
Iain