On Saturday the 30th May I was pleased to be back in Hyde Park for the London round of the World Triathlon Series (WTS), a regular on the calendar over recent seasons.
Iain Robertson would be racing with me and making his guiding debut. We'd only been able to complete one swim and two tandem rides together as Iain stepped in a short notice, but I was confident he would do a great job (and he spells his name the correct way which is a bonus!)
After the disappointment of puncturing at the National Champs a week or so earlier I was keen to put on a good show, or at least finish. Finishing alone would gaurentee scoring some World Ranking points that might be useful, both in terms of getting other race starts later in the season and also keeping my options open for next year…we'll have to see how things work on that front.
In our brief preparations Iain and I seemed to swim pretty well together. It seemed easy as we have a similar stroke-rate and that trend just continued in the race itself. I maybe started a bit too hard but once I settled down we got round the swim with minimal fuss, but over a minute down on the Polish team and about 40 seconds down on Spain. T1 went pretty well with the fastest split (that counts as a win, right?).
Out on the speed-bump and U-turn laden 5 lap bike course (not ideal for a new pilot!) and we were going well, even jumping out of the saddle on each corner despite our limited prep. We caught Spain and were making in-roads on Poland – 10 seconds a lap over the second half of the bike leg. We never caught them but it seemed we weren't too far behind.
I messed up T2 a bit, trying to put on Iain's size 11 shoes instead of my 7.5's (that would be like running in clown shoes I guess!) and I also managed to knock Poland's tandem off the rack (that'll teach them!)
In all honesty, I knew the Polish team would be almost impossible to catch on the run having seen them race in Canada last year. I was proved correct as they gradually extended their lead to take the win. Talking to them afterwards it turns out the VI athlete competed at the London Paralympics in athletics and was World Champion over 800m. Whilst that made me feel better I have to admit I didn't run well myself.
I can only put it down to being generally a bit tired; I'd had what you might describe as a challenging week or so at work and perhaps this showed. I struggled badly on lap 1 of the run with cramp and a stitch that came out of the blue. Things slowly improved as the run progressed but I never felt great. Iain looked comfortable, but as a 15 minute 5k runner I knew he would so I had asked him beforehand to puff and pant a bit to make me look better:-)
Unfortunately the French guys ran well and over-hauled us for 2nd but we held off Spain to take the Bronze and enough points to move me up from 16th to 12th in the rankings.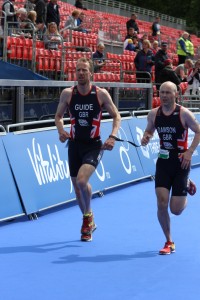 I was nice to race and finish and I think we went well on our first race together. If we can tidy up a few technical issues and I run to my potential we would very competitive.
Thanks to Iain (and Jill as always) for their efforts in London.
Results are here (Including an additional 3:18 seconds for the factoring) and below are a few snaps people took: –
Iain