Sometimes you just have to tough it out. This was definitely the case at the recent European Middle Distance Triathlon Championships in Walchsee, Austria (4th September).

It was nice to have Matt Ellis back on guiding duties for the first time in a while. With an interesting course in stunning surroundings combined with some decent competition, it would prove to be a fun weekend.
In hindsight i'm not sure 'fun' was the right word. Maybe 'tough' or 'challenging' might have been a better choice, but it certainly wasn't 'dull'.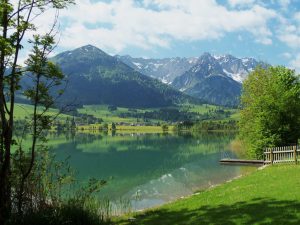 The excitement started before the race had even begun. During the course recce we had difficulty actually slowing (never mind stopping!) the tandem on a one particular zig-zag decent. To add to the fun with two people's weight we were defending much faster than the solo bikes, who would be racing on the circuit at the same time as us, increasing the risk factor further.
Needn't have worried as by race day the officials had revised our course to 3 shorter loops cutting out the aforementioned downhill. It would still have plenty of climbing and technical sections though.
Fast forwarding to race morning and whist setting up in transition we thought it would be a good idea to put the tandem in an easy gear for starting after the swim. PING! The cable guide had pulled clean out of the frame (it's had a lot of use and abuse to be fair). This is a significant problem, as with no tension on the cable you will only be able to use the small chainring and this isn't going to be fast on the flatter or downhill sections. After a bit of head scratching we thought the best option was to fix it so we could only use the big chainring (57T), using the front gear mechanism as a chain-catching to stop it coming off. Thankfully the GB Age Group Team Mechanic sorted this for us but with the caveat that there were no guarantees it would get us round.
We put the bike issues to one side and got on with it. The swim seemed to go OK although I felt sick a couple of times. Odd but not to worry. We were 2nd out of the water 4 minutes down on our friends from Serbia Lazaar Fillipovic and his Guide, but we knew they would go off fast and we didn't think it was in our interest to chase.
T1 didn't go quite to plan as I got cramp in my right hamstring. That was odd too but oh well. Onwards!
Out on the bike we quickly made progress, scything through the Age Group athletes and catching the Serbian team about 1/3 of a lap in. The bike was more or less holding together with the chain only coming off once and we both seemed to going well. However I was finding it difficult to drink and eat much for some reason and pushing that big gear round felt heavy going, especially by the end of the 3rd lap. We took a lot of time out of rivals though giving us a chance of success.
We started the run with about 12 minutes in hand over Serbia. Would it be enough? I wasn't sure. I knew how strong a runner Lazaar is having run a 1:20 half marathon compared to my 1:41.
We started quite well on the 1st of 4 laps around the lake including mixed terrain and some long drags,  running at 4:40/km. However I was feeling sick again and cold even though it was apparently over 30 degrees.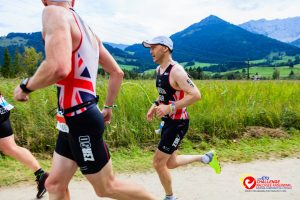 Lap 2 was a complete nightmare to be honest. I felt really bad and just wanted to stop and have a little sleep somewhere…anywhere. I was also getting lots of random cramping in my legs which was slowing us down a lot. I got through it with lots of encouragement from Matt and plenty of fluid/fuel being taken on board.
Lap 3 and I was developing a sore left calf muscle (this turned out to be a small muscle tear). Ignored that as we were still in a winning position. I thought I'd keep Matt entertained at the start of lap 4 by tripping over a small step and throwing myself at some berries. No harm done.  Whilst I was feeling tired, things had at least improved enough to allow us to run most of the last two laps.
At the finish we had about 3 minutes in hand to finish in 4:56:51 and thankfully my temporary torture was over. Well not quite. In the finisher's tent I suddenly felt dizzy and VERY hot having been freezing for the previous 2 hours. I thought it best to sit myself down then lie down even if I was right in the way of everyone else!. I was also struggling with my breathing and having an asthma attack. 20 minutes or so later things had more or less returned to normal, but for a while I was a bit of mess.
As you can tell I suffered for this win. As it turns out it was also an eventful day for the Serbian Team who'd had a crash on the bike and also found the run tough to claim 2nd with Hungary rounding out the podium in 3rd spot. See results here.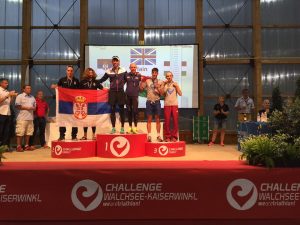 Post-race our Serbian friends assured me that their home made spirit would aid my recovery, but having drank quite a bit of it I'm not overly convince:-)
Massive thanks to Matt for doing a great job of Guiding and helping me get round and also to the mechanic who saved the day!
All Photo's: Stefan Babel.
Iain