Having managed just one practise session the weekend before in London, David McGaw (Cambridge CC)  and I headed off to Derby for the GP track meeting on 26th August.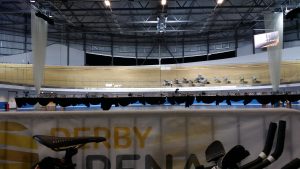 This was the first time races for Para cyclists had been included in the programme. Whilst the entry numbers were relatively low and there wasn't any big hitters (or as David put it 'MBE's') on show there was still healthy competition with 6 or 7 tandems and a few solo's.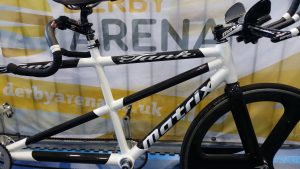 We competed across 3 timed distances – 200m flying sprint, 1km time trial and a pursuit over 2km (This is usually 4km).
David and I are by no means sprinters, so it was going to be tough getting any decent results. This was  especially so with the pursuit being so short meaning the sprinters should just about be able to cope over 8 laps of the track.
The 200m went relatively well given we'd never done one together. Our approach might have been a little unorthodox, accelerating mainly at the bottom of the track and only gaining height in the last half lap before we had to dive down the banking  and pedal ferociously for a few seconds. Still, we managed 12.8 seconds for 4th fastest.
The 1km was more familiar. We didn't have a great start but got going quickly and finished 2nd fastest with a 1:15 minute ride (about 30mph). This was surprisingly 3.5 seconds faster than at January's national champs! Boy was it a close finish though – we only won our heat and 2nd spot by 1 hundredth of a second from Joseph Widdowson and his pilot!
The 2k pursuit saw something of a rematch with our rivals from the 1k who we were so close to on time. We'd have a bit of time to make up on Chris Macdonald and his pilot too, who had been 1.5 seconds ahead of us in both the previous races.
David and I pretty much delivered the same opening KM as we had in the 1k…then just kept going. Great ride by David and it was enough to secure the fastest time by 9 seconds, catching Team Joseph in the process. Maybe 2k really is a bit far for sprinters after all:-)
Results below: –
Over-all this was a great day out. It was really well organised and all the other riders and officials were incredibly friendly and helpful. For a small crowd (there's not much seating at this venue) they certainly made some noise too!
David went on to set a PB over 10 miles on the road the following day (18:57) despite confessing his legs felt a bit 'funny' after all that high intensity track racing. Good effort!
Iain