It was a double header for the weekend of 9th and 10th June with the British Paracgcling Time Trial Championships on the Saturday and the Circuit Road Race Championships on the Sunday.
Jack Peasgood was piloting for both races having kindly agreed to step in owing to the fact that David McGaw had recently been knocked off his bike and broken his hand. I was lucky to have someone as experienced as Jack to race with, meaning I didn't have to worry too much about initiating anyone new to the dark arts of tandem racing!
There was a pretty good field of 7 tandems for both events, with the men and women factored against each other meaning us guys had to overcome a 12% deficit to the ladies for the TT and catch them for a lap on the road race.
In the TT Jack and I set off at a strong pace around the first lap of what can only be described as a technical circuit with twists and turns, a few drags and some fast sections. It was fun, but Jack would have his work cut out steering the tandem at speed. We were going well early doors, but then inexplicably I started getting cramp in both calfs. This didn't help at all, but to be honest we had already been passed by Bate/Duggleby and McDonald/White who started 2 minutes and 1 minute behind us.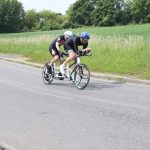 We were basically riding for bronze, and that's what we got after catching the team from Wales and the ladies pairing. I was a bit disappointed at not being able to ride to potential, but I'm not sure it would have made that much difference. One pairing are Paralympic champions and the other training hard purely for endurance cycling, and making great progress too. In contrast we are really triathletes:-)
Sunday's race was a different ball game. It would be an hour's race around the 2km closed road Redbridge circuit. Following a last minute panic with our gears which Jack thankfully managed to more or less fix we did a couple of warm up laps. I quickly realised that it would be a touch 60 minutes coming up. Apart from the nice tight corners there was a  fairly steep hill each lap (well for a tandem anyway). This would be wearing, and so it proved!
We took the lead on the first lap, but then the chain dropped off the ring. Fortunately we were able to put it back on quickly and the other teams were very sporting having neutralised the race until we got back on. After just a couple of laps the race blew apart with the the two faster teams from the previous day making a break for it with Jack and I were caught in no-man's land behind them but in front of the others. We decided to see how it went. In the end we just kept a fairly consistent effort going and managed to pull the lap back on the ladies and keep ahead of the other teams to put us in 3rd spot again. Jack did a great job of piloting us safely around 18 laps, meaning we ascending the hill (with a max gradient of 10.5%) 20 times.
Can't complain with two medals from two races and more importantly it was great fun.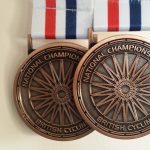 Big thanks to Jack for piloting and also Tom Levy for driving me and the tandem to Saturday;s race.
Iain